Cylinders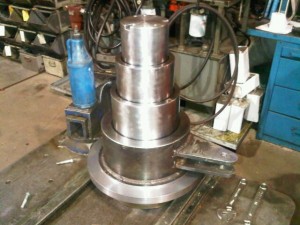 Dilts Piston Hydraulics specializes in cylinder manufacturing and rebuilding. From marine Gate Cylinders to Industrial and Agricultural cylinders, we service them all! Our Tuxdo torque machine, which can produce 50,000 lbs of force can remove even the toughest clevis' and pistons, we have a custom made honing machine that can hone cylinders up to 50" in diameter and 20 feet long. From ½" bore cylinders to very large marine Luffing Cylinders we can handle them all.
Need help engineering a cylinder, call us! We can help design not only your cylinder needs but also can assist you with the required valves and power unit.
Our rebuilds out last the others! Through years of working together to offer the best products available, Dilts cylinder rebuilds use only the best re-chroming contractor as well as top name brand seals and high quality materials for the glands, pistons and tubes.
Do you have a cylinder in need of rebuild? We do them all!
MARINE LUFFING AND SLEW CYLINDERS
GATE CYLINDERS
BOOM/ SNORKEL CYLINDERS
INDUSTRIAL PRESS CYLINDERS
AUTOMATION CYLINDERS
MULTI-STAGE CYLINDERS
ENERPAC STYLE
CAR HOIST CYLINDERS
FARM TRACTOR IMPLEMENT CYLINDERS
HIGH PRESSURE CYLINDERS
PNEUMATIC CYLINDERS